Get The Most From Your Trade Show

Marketing Investment With

With today's restricted budgets, it's more important than ever to make sure the money your company invests in exhibiting at trade shows isn't being wasted or spent ineffectively.
Robinn Lange's Making The "Write" Choice Is
The Most Cost-Effective Investment Your Company
Can Make To Insure Success At Your Exhibit Booth
Robinn Lange's Making The "Write" Choice attracts crowds to your booth by integrating your sales and marketing messages into Robinn's amazing and intriguing customized presentations. These high-impact presentations will engage attendees in an interactive experience that will allow your message to be seen, heard and remembered by more people. Imagine how much more effective your booth will be because you have this unique attraction that is tailored to deliver your most important business messages directly to your prospective audience.

Companies invest thousands of dollars in trade show exhibits and promotion for one reason - the opportunity to connect with potential customers. Attracting attendees to your booth and stopping long enough to allow you to present your services, products or message is a big challenge. Experts say that you only have six seconds to gain their attention and draw them into your booth. You can not leave this to chance.

Simply just having a premium at your both is not enough to attract business and create an impact. Candy is quickly consumed, useless trinkets wind up lost or in the back of a desk drawer, and often raffle drawings alone typically yield little more than a business card? With Robinn Lange, you can offer a custom designed professional presentation that captures an audience and delivers your message while offering something truly personal that:
- Creates interest and delivers traffic directly to your booth
- Keeps audiences intrigued, engaged and willing to stay to hear your message
- Allows you to obtain their detailed contact information
- Creates the perfect opportunity for your sales people to truly connect with
attendees and establish your company apart from the other exhibitors and your
competition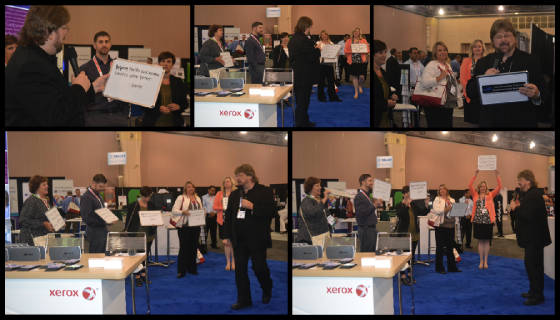 Presentations

Every hour, on the hour, Robinn's presentation will begin. The audience is immediately
attracted and engaged by the uniqueness and mass-appeal of learning what their Handwriting reveals about themselves.

As the audience learns about the concept of Handwriting, your detailed information is offered as the example. In the process the audience sees, learns and retains your company's name and key benefits of your product, service or corporate message. Your message becomes instilled throughout the entire demonstration.

Your audience will be captivated as Robinn offers professional, tasteful Handwriting profile readings of audience members while showcasing your company's products or message. Then the tables are turned as the audience becomes the "experts" as they try to match Handwriting samples (featuring your products or message) of volunteers to their correct author based on characteristics just demonstrated. The entire presentation is fun, interesting and based on "edutainment".

At the conclusion of the presentation audience members can enter to win one of several
personal profile readings or premium giveaways by simply providing their Handwriting
sample on your contact information form and turning it in to members of your sales team or one of our promotional assistants.
Personal Profile Readings

Excellent for receptions, hospitality suites, and other more intimate or casual gatherings. Your guests will enjoy hearing about their favorite subject...themselves, with a Personal Handwriting Profile. All profile readings are presented in a professional promotional folder revealing their unique characteristics and details combined with your promotional message or imaging.
Handwriting Exposed! Offers Complete Customization
And Presentation Support

Scripting Production Audio/Visual
Staff And Assistants Training & Preparation
Promotional Giveaways

To Create Attention, Impact & Results
At Your Next Trade Show

Call Today!
(702) 843-4960