Handwriting Analysis is the quickest way to accurately discover someone's true
personality of any formal psychological method available today.
Private Handwriting Profile Analysis
These fantastic profiles can help you to better understand yourself and others, see how you are perceived by others, how you relate to others personally and professionally, and offer better insight to the important facets of your life and relationships.
Robinn Lange accepts private readings via fax, mail or e-mail. These private Handwriting Analysis are available in several different formats:

Basic Handwriting Profile Analysis
This analysis is a basic report highlighting most obvious traits of the provided handwriting sample. This is similar to a Handwriting Analysis done one-on-one at an event in person that provides insight into your personal feelings, beliefs and characteristics. Price $49.95


Deluxe Handwriting Profile Analysis
This very popular analysis report offers additional details and information with regard to several more revealing areas of your personality including emotional makeup, defenses, integrity, social attitudes, personal abilities and more. This more detailed personal analysis allows you to examine and understand the real you while realizing other's perceptions of you. Learn areas that you can change and improve for greater success and overall happiness. Price $99.95
Complete Handwriting Profile Analysis
A comprehensive personal Handwriting Analysis including a much greater multilevel detailing of what your Handwriting truly reveals. This much more in-depth Handwriting sample is provided allowing for development of a greater and more thorough analysis profile. This detailed analysis features a variety of additional areas including personal strengths and weaknesses, social preferences and behaviors, romance, relationship and friendships, compatibility, job and career, money and financial tendencies, and personal consistencies. A complete Handwriting Analysis Profile is provided detailing your customized analysis. Price $149.95
Signature Analysis

Your signature is your outward expression to the world revealing the knowledge and image you wish to present. Our Signature Analysis uncovers what your signature reveals about yourself and the message it projects to others about you. A Signature Analysis is also ideal for learning about others when a complete handwriting sample is unavailable or unobtainable. Price $24.95
Dater's Profile Analysis

Are you interested in learning more about someone you are dating, thinking about dating or considering advancing your relationship to the next level? Our Dater's Profile lets you better understand your date to learn about their best qualities, features, emotional preferences, stability and their goals and desires. Learn things it could take you months to find out on your own.

A Dater's Analysis is also ideal to analyze yourself to allow you to better understand the type of person you are best suited to date or for relationships. Many people are surprised at what is reveals and how they may have been searching for the wrong characteristic in a mate. Learn about the profile of a date most suited for you. Price $39.95
Compatibility Analysis

(Analysis of two people)
Determine personal compatibility between friends, dates and lovers.
A handwriting analysis is a perfect solution to check if you are suited mentally, physically, sexually, and share the same outlook and goals in life. Are you compatible? How compatible are you? In what areas are you most compatible? What areas requires change for true compatibility and harmony?

Identify traits which can negatively impact or even ruin a relationship. Wouldn't it be great to know and identify these traits before you enter or are too deeply into a relationship? These may include dishonesty, sensitivity, dominance, aggressiveness and more.

These are just some of the things revealed in our Compatibility Analysis. Each person is analyzed individually and then compared together to determine strengths, weaknesses, and the true level of compatibility while defining contrasts. Are you meant to be together? Can your relationship make it? Learn the answers with this analysis report. Let our Compatibility Analysis profile assist you in your search for the "perfect mate" and the ideal relationship. Price $99.95
Engagement & Marriage Compatibility Analysis

An excellent Engagement, Shower or Wedding gift!
This is a fantastic analysis report to offer real insight into the relationships of engaged couples or newlyweds to reveal their true compatibility together as a couple embarking on life together. Learn about each other's strengths, weaknesses, beliefs, preferences, emotions towards themselves and each other, sexual attitudes, family relationships and preferences, compatibility with each other's families, and type of parents they will be, while determining areas which can be developed and improved.
An engagement and marriage is the joining together of two individuals to create a path and foundation from which to grow. Our Engagement & Marriage Compatibility Profile can make this transition and evolution more accepting and understandable while identifying possible areas of difference and concern along the way.
Price $199.95
Relationship Compatibility Analysis

Our Handwriting Analysis profiles can help you better understand and define relationships with family members, spouses, our kids, in-laws, friends, coworkers and anyone else with whom you interact. Handwriting can provide a wealth of information about their personality. This knowledge can help to better understand that person and how they think, feel and function. A profile of yourself can allow you to see how your are perceived by others.

This can provide great insight to answer questions you may have to better explain why people act and respond as they do in relation to feelings and emotions, drives and motivations, honesty and integrity and how they perceive the people and world around them.

Does my spouse really love me? I never hear them say "I love you". This is a common question and area of concern for many. Maybe they do love you but just do not express it, or chose to express it differently than you understand. Perhaps they do love you and you don't even know it! Their own personality may not recognize others needs in this way. By realizing this your relationship can be greatly improved. Handwriting Analysis allows you to take the time to understand each other. Discover the strong and positive elements of your relationship.

Handwriting Analysis can also identify traits which can ruin a relationship. These may include dishonesty, sensitivity, dominance, aggressiveness and more. This analysis profile includes outlining areas of compatibility as well as areas where friction is likely to occur. Improve relationship dynamics between yourself and those closest and important to you. Price $199.95
Genealogy Analysis Report
Are you interested in learning more about deceased relatives or your ancestors? Viewing photos and family member's recollections are nice but do not always give you true insight into their personality, preferences and how they lived. Names, places and dates of photographs can offer some basic details but what were they really like?

Genealogy Analysis Reports allow you to better learn and understand much more about their personality and perhaps what commonalities they had with you or other current family members other than simply genetic makeup. If you have handwriting samples of these family members you can discover greater insight into a variety of facets of their lives. Price $129.95
Phone Analysis

Any of the above Handwriting Analysis Reports are also available with the addition of a live telephone session with your analyst to explain in detail the information discovered and revealed in the analysis. This also allows you the additional opportunity to ask questions directly to your analyst.
Price $125.00 per hour

Professional & Business Analysis Reports
Handwriting Analysis also offers many practical and useful benefits in business and professional applications.

Handwriting Analysis can provide a wealth of information on business partners, associates, clients, investors, franchisees, employees, contractors, personnel and other related relationships.

Job Compatibility Analysis Report

Your handwriting can reveal many things in relation to the type of work, job and career environment for which you are best suited. Let your handwriting tell you where you are the best fit, the most comfortable and can enjoy the most success. Wondering if you are suited to a specific job? Provide us your writing sample and the details of the job or job description, and learn if you would be compatible and in what areas problems or conflicts might arise. Price $125.00
Professional Relationship Compatibility Analysis Report

For business partners and other professional relationships. Handwriting can provide a wealth of information about the compared personalities. This knowledge can help to better understand each person and how each person thinks, feels and functions.

This report is a comprehensive report analyzing both individuals to discover the strong and positive elements of your relationship and compatibility, while outlining areas where potential problems or friction is likely to occur.

Our Professional Relationship Compatibility Analysis Report can allow you to understand, identify and improve dynamics between a partnership or professional relationship. Price $275.00
Employee Screening/Personnel Profile Analysis Report

Business worldwide have experienced the benefits of Handwriting Analysis as a useful and invaluable tool in screening personnel as part of their hiring process. Businesses ranging from independently owned small businesses to Fortune 500 companies have found Handwriting Analysis more helpful and beneficial than psychological personality tests in both team building and decision making. Every hiring mistake can cost the company thousands of dollars while contributing to poor moral and negative feelings among employees. Our Employee Screening/Personnel Profile Analysis will assist you in determining the right employee for any type of position or job level including management, accounting, marketing, assembly line or labor worker. Handwriting Analysis promises a true, accurate and "cheat-proof" method to determine personality and character. Since the polygraph has become virtually outlawed, Handwriting Analysis has quickly advanced to the preferred method of screening when interviewing and considering employees.

Our Employee Screening/Personnel Profile Analysis can not only determine if the personality is an appropriate fit for the job, but can also determine such individual personality traits as honesty, integrity, enthusiasm, persistence, loyalty and many others. You may specify certain characteristics of interest for the available position which we can compare to the actual traits of the applicant or potential employee.

Our analysis may also reveal weaknesses and strengths, including those characteristics which could be disruptive or dangerous to other employees.

This is an excellent method to prescreen prospective employees at a fraction of the cost of personal interviews or other methods of psychological evaluation.
Handwriting Analysis is a legal method of screening in all 50 states and is nondiscriminatory as the analyst cannot determine sex, race, religion or even most disabilities. The analyst need never see the person being analyzed.

Employers should read our Employers' Guidelines and use the Employer Order Form. If you would like to order a Employee Screening/Personnel Profile Analysis Report, please contact us Langepro@aol.com. Price $275.00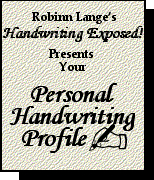 Place your order by using one of the following methods. Once your order and payment has been received your will receive an easy to understand Handwriting Profile Form to complete and return.
It's That Easy!

By Phone
Call (630) 393-1606 Midwest Office
(702) 843-4960 Las Vegas Office
Toll Free (866) 534-2506
By E-mail
E-mail Robinn at
Langepro@aol.com
and please type PRIVATE PROFILE READING in the "subject" line. Include your name, address, city, state, zip code, telephone number and e-mail address.
By Mail
Send Your Order To:
Robinn Lange
2251 N. Rampart Blvd. #189
Las Vegas, Nevada 89128

Order Your Personal Handwriting Profile Analysis Today!